Is San Francisco Ready to Recognize Skateboarding as Legit Transportation?
Often seen as nothing more than toys relegated to skate parks, the first meeting of the Skateboard Subcommittee marks a change in city attitudes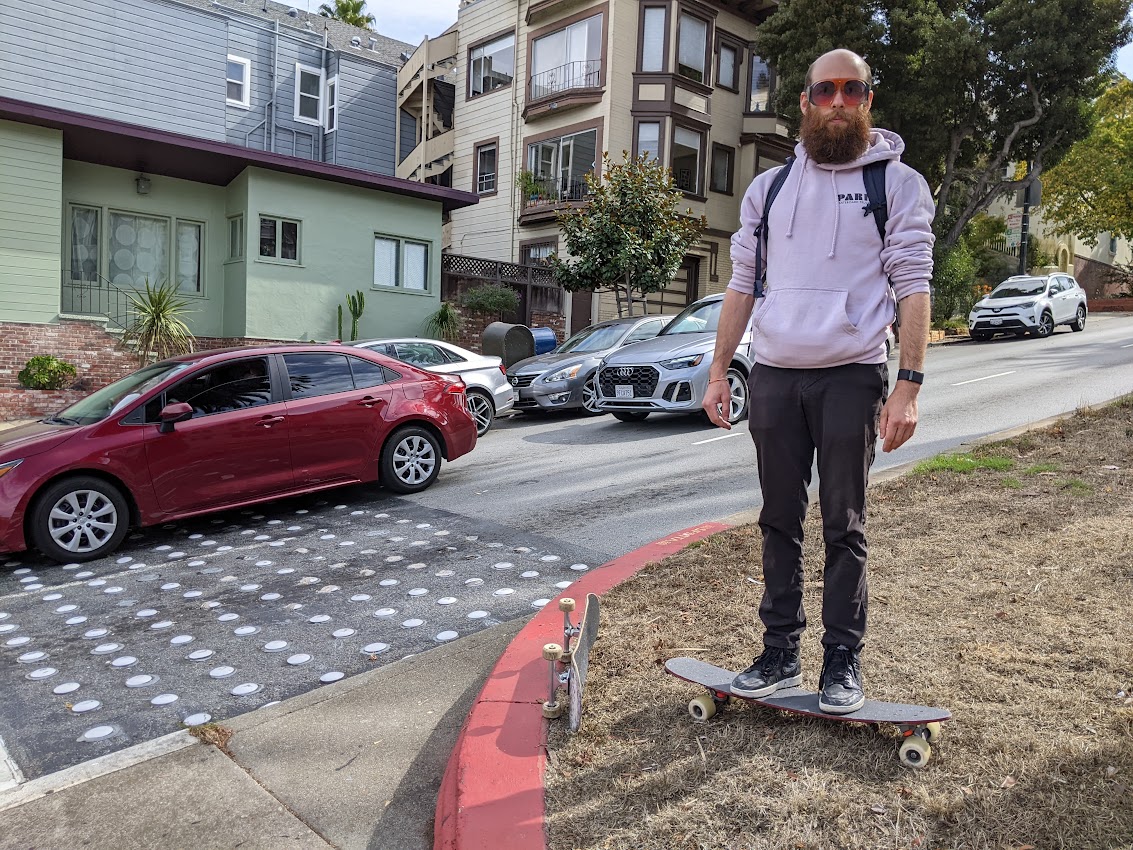 The San Francisco County Transportation Authority (CTA) held the inaugural meeting of its Skateboard Citizens Advisory subcommittee on Tuesday, part of a larger effort to rewrite the rules on perhaps the oldest and simplest form of wheeled "micromobility."
Skateboarding has long been the neglected stepchild of San Francisco transportation. As discussed during the meeting, current San Francisco law "prohibits skateboarding on any city street at any time, on any sidewalk in any business district at any time, and on any non-business district sidewalk commencing 30 minutes after sunset and ending 30 minutes before sunrise."
It also bans skateboarding in and around transit stations and at other times in business districts – and requires skateboarders, including adults, to wear helmets, kneepads, and elbow pads at city skateboard parks.
The city has even gone so far as to booby trap streets with ceramic dots in popular skateboarding spots, as they did on the now infamous Dolores Street Hill (see lead image).
But the city is showing support for recreational skating, as seen in the image below of a recent dedication of a new skate park in U.N. Plaza.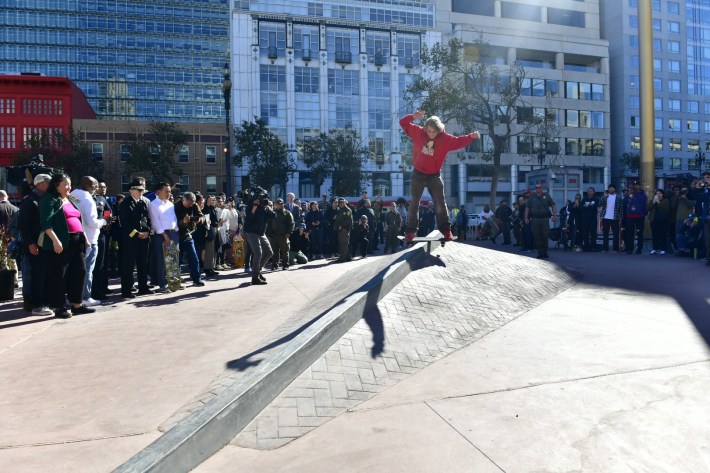 But for many people, a skateboard isn't for tricks–it's just a convenient way to get from A to B. It's also seen as a great solution to the last-mile problem from transit. Skateboards are easy to carry, they don't take up much room, don't require much maintenance, and really do deserve serious support from the city, say advocates.
Aaron Breetwor, an advocate and skateboard instructor who has spent years addressing SFMTA and other agencies in his effort to change attitudes, made a presentation to the new committee. He said there is confusion between skateboard types, some of which are designed for acrobatics (as one would see in a competition or at a skate park). "Skateboards designed for transportation have larger, softer wheels," he explained. These boards "do a better job servicing members of the public in need of increased access to mid-speed mobility."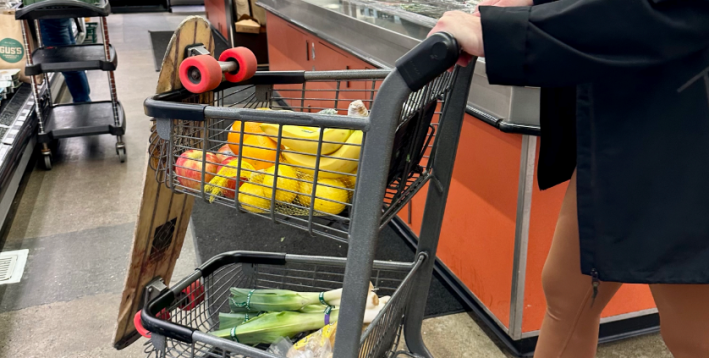 In other words, skateboards – if San Francisco was designed to encourage their use rather than restrict them – could go a long way towards helping the city solve some mobility issues. "By the numbers, there are 8.8 million skateboards in America," Breetwor told the committee. "In California, 48 million miles per year are traveled by skateboard, and in Los Angeles 30,000 skateboard trips are made to and from transit stops."
Of course, skateboarding isn't for everyone, just like not everyone will ride a bike. However, Breetwor points out that with its small wheels, a skateboard makes the perfect "design vehicle." In other words, if SFMTA and other agencies designed streets and bike paths to accommodate and keep skateboarders safe, they'd automatically be building roads that work better for everyone.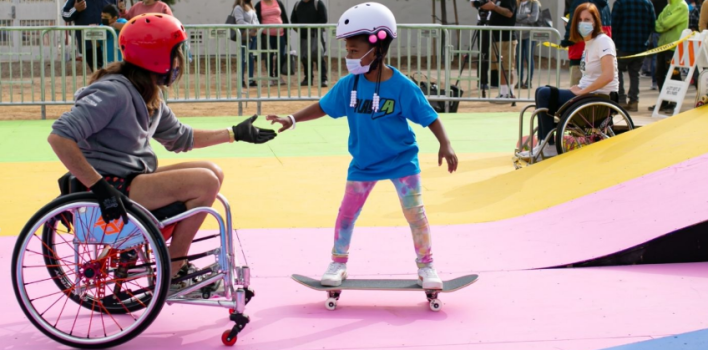 Right now, that isn't the case. For example, the lips of many driveway aprons, as shown in the image below, are too high for skateboards. As seen in the lead image of ceramic dots glued to Dolores Street, San Francisco will even go the other direction and intentionally try to make streets impassible – and potentially deadly – for skateboarders. Those dots are the city's attempt to deter skateboarders from "bombing" down the hill–never mind that they present a hazard to anyone, not in a car.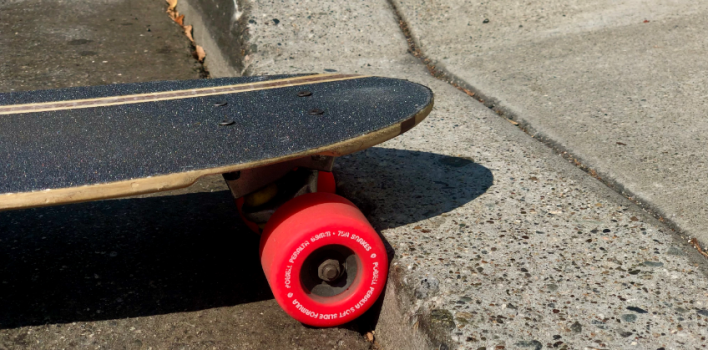 And given the controversial mass arrest of skateboarders last summer at that location, skateboarders can be forgiven for getting the impression that they're simply not wanted on city streets. They are, after all, historically even more marginalized than cyclists. From Streetsblog's view, it's odd that while debates raged for years about the roll-out of scooters and other forms of micro-mobility, the trusty old skateboard is still banned so many times in so many places.
But the committee is hopeful that's about to change. "With only slight intervention … skateboarding for everyday transportation can become a viable and even ideal mobility solution for a far broader swath of the population," said Breetwor. In this area, "San Francisco has a rare opportunity to set new precedents, to be a leader."